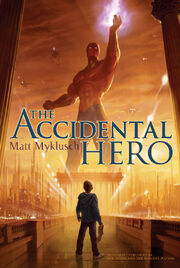 The Accidental Hero is the first book in the Jack Blank series. The book follows Jack Blank and all of his friends on a journey about superheroes through an unknown world known as the Imagine Nation.
Dedication
"For Rebecca, who said 'Maybe you're a novelist'."
...
Characters
Edit
Jack Blank (main character)
Allegra
Skerren
Stendeval
Jonas Smart
Chi
Prime
Emissary Jazen Knight
Information
Edit
(information)
(information)
(information)
References
Edit
Ad blocker interference detected!
Wikia is a free-to-use site that makes money from advertising. We have a modified experience for viewers using ad blockers

Wikia is not accessible if you've made further modifications. Remove the custom ad blocker rule(s) and the page will load as expected.