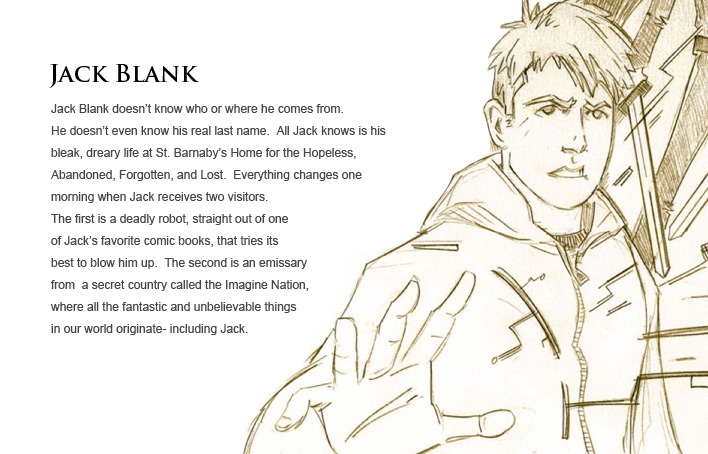 Jack Blank is the main protagonist of the Jack Blank Adventure series written by Matt Myklusch. Jack does not know who he is or where he came from. He does not even know his real last name. All Jack knows is his bleak, dreary life at St. Barnaby's Home for the Hopeless, Abandoned, Forgotten, and Lost. Everything changed one morning when Jack received two visitors: an emissary and a Rüstov. (Revile.)
Jack Blank's history is unknown to him. The only people that know his past are the Clandestine Order and Stendeval, Jack Blank's instructor.
Physical appearance
Edit
Jack Blank is a teen boy. Throughout the books, he goes from age 12 to 14. The rest of his 'appearance' depends on how you depict the book.
Personality
Edit
He is usually brave and loyal. He is also very creative.
Relatives
Edit
Jack Blank's relatives are all missing or dead. None of them seem to claim him when he enters the Imagine Nation. In book 2, The Secret War, Obscuro (AKA. Glave), mentions Jack's father to try and get him to board his ship. Jack's father is revealed in the last book and is
References
Edit
Ad blocker interference detected!
Wikia is a free-to-use site that makes money from advertising. We have a modified experience for viewers using ad blockers

Wikia is not accessible if you've made further modifications. Remove the custom ad blocker rule(s) and the page will load as expected.